According to Accenture the new 5 Trends in Healthcare can be summarized as: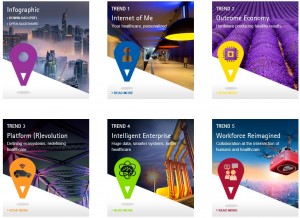 TREND 1– Internet of Me. Your healthcare personalized.
TREND 2– Outcome Economy. Hardware producing healthy results
TREND 3– Platform (R)evolution: Defining ecosystems, redefining healthcare.
TREND 4– Intelligent Enterprise: Huge data, smarter systems, better healthcare.
TREND 5– Workforce reimagined: Collaboration at the intersection of humans and Healthcare.
No way to express in a most elegant manner what is in fact our H2O Project©® of HUMANIZATION OF HEALTHCARE.
TREND 1- Is addressed in H2O by "My Personal Health Assistance with My personal small Health data and my personal decision making"
TREND 2- Is addressed in H2O by "Making the support accessible with a click, tap or scroll with a PHAs (personal Health Assistants)"
TREND 3- Is addressed in H2O by "The HFog or Health Fog, that enables minute-by-minute tracking of health and activities with no delay in response time and comprising social, mobile, cloud, Internet of Things and others"
TREND 4- Is addressed in H2O by "Learning and adapting knowledge helping PHAs to make better and faster decisions with Health Agents trained individually"
TREND 5- Is addressed in H2O by " Hybrid Human-Cyber-Physical System that allow robotics enable machines to communicate with humans"