We have recently informed of the PoC microfluidic systems 3D printed on paper build by Cambridge Consultants.
From this advance to build BIOSTAMPS specifically designed to PoC diagnostics is not far and capable to create DIY (Do it Yourself) follow up solutions as presented in EAROMICS.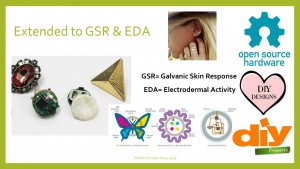 Including the Circuit Stikers designed by Chibitronics.
The utility of temporary tatoos for glucosa measurements has already been published this year leadered by the University of California. "Tattoo-Based Noninvasive Glucose Monitoring: A Proof-of-Concept Study" Anal. Chem., 2015, 87 (1), pp 394–398. DOI: 10.1021/ac504300n