It is updated with a very broad goals as summarize here: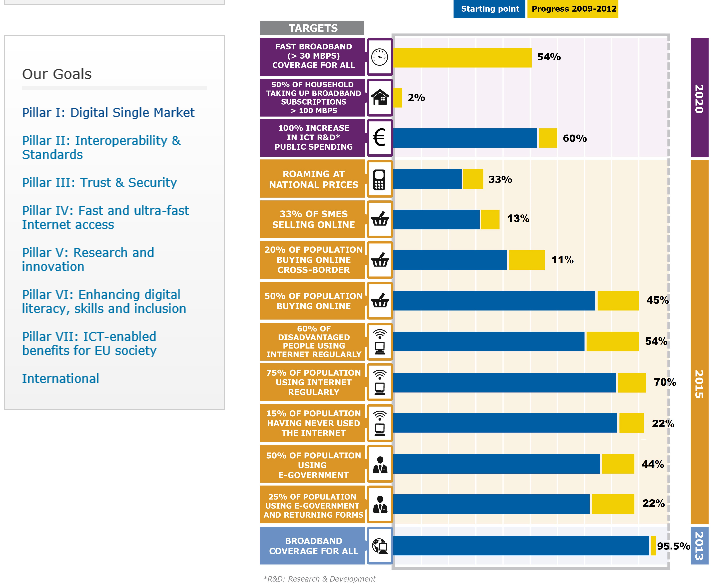 Items particular important in Telemedicine and Health 4.0 are according to our opinion the following ones:
DIGITAL SINGLE MARKET

Action 8: eSignature directive
Action 9: eCommerce directive

INTEROPERABILITY AND STANDARDS

Action 21: ICT interoperability
Action 22: Standard setting rules
Action 23: Guides for ICT standardization & public procurement
Action 24: EU Interoperability strategy and framework

TRUST & SECURITY

Action 33: EU-wide ciber security awareness
Action 35: Telecomm rules of privacy
Action 37: Self-regulation in use of on line services

UF-INTERNET ACCESS

Action 42: Adopt a Broadband communications
Action 43: Fundings for high speed broadband.

RESEARCH & INNOVATION (all are important, particularly)

Action 52: Light & fast access to EU funds in ICT
Action 53: Financing infrastructures & innovation clusters
Action 54: New generation of web-base apps and services
Action 120: EU Cloud
 Action 121: EU Cloud computing strategy
Action 122: Pilots to move public services into EU cloud.
Action 127: Bussiness friendly environment for start-ups.
Action 129: Mino and nano-electronics  out of industries.
Action 130: Photonics and robotics.
Action 132: High performance computing.

DIGITAL LITERACY: All actions in digital literacy are of paramount importance and according our premisses should directly hit in healthworkers training and licencing besides the users in healthcare. 
ICT- SOCIETY BENEFITS. In here there are actions specify for telemedicine, eHealth and healthcare in general.  
To my understanding this will be impossible if doctors, nurses and managers are not trainined and prepared to understand, proposed and discuss the new goals in technology and health delivery. This will be only possible if the University do not face a complete updating of the carriers related with health.