INSIGHT is the fist searchable database obtained from the Electronic Health Records (EHRs), FREELY available to people, researchers, policymakers, and anyone who wants to look at top line aggregated data organized in several categories: disease states and conditions, prescribed drugs, BMI, and age cohorts, in this first phase of the launch.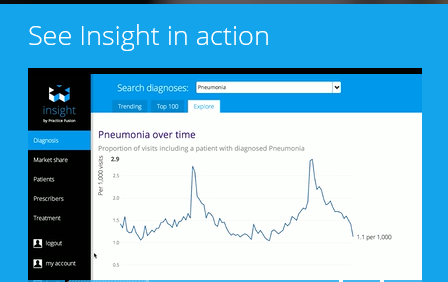 Practice Fusion also offers a premium version of Insight for those looking for more in-depth, granular analyses. Features of the paid platform include:
Additional data views including: Patient Profile, Prescriber Profile, Rx Switching and Treatment Flow
Filters allowing the selection of specific patient subpopulations, and the ability to see any data view for that specific subpopulation
Ability to view the market share of any prescription medication within a patient subpopulation
Custom-curated reports offering real-time and in-depth performance analyses of any drug therapy in the outpatient market, available by request.
The Cloud is ment for those analysis and research activities, it is a R&D tool or it allows management, epidemiology or governement decision making.