Bitcoin blockchain is the technology backbone of the network in the bitcoin technology and provides a tamper-proof data structure, providing a shared public ledger open to all. The mathematics involved are impressive, and the use of specialized hardware to construct this vast chain of cryptographic data renders it practically impossible to replicate.
All confirmed transactions are embedded in the bitcoin blockchain. Use of SHA-256 cryptography ensures the integrity of the blockchain applications.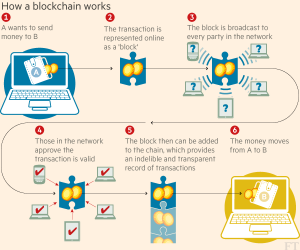 Image taken from World Economic Forum.
Future with blockchains are endless. At the core of this is the ability to assign identity to people, to organizations, and to goods, to track in a transparent way the provenance of goods as they pass from one organization to the next, and lastly, as goods change hands, to exchange payment between the two organizations.
a)
Food
is a compelling supply chain because we're deeply sensitive to where our meals come from, and how they arrived at our plate, but importantly the human-scale impact of blockchains will be felt throughout the world's supply chains.
b) Sport is another on which you could create markets on demand, and pay out winners in a truly interoperable and transparent way. You can create your own app that allows points to be traded and wagered. Prediction markets like these may be useful as predictors for business decisions as well.
b) Health, is extense. We can show the quality and training of the healthworker, the origin and results on which treatments were based. It could be used to manage a consent model. It could manage a distributed record of who can consent to giving access to, it would be impossible to fake the data. In hospital orders it will be asociated authorization, conditions, intermediate people and alarms if fails… who knows what else…
But for sure it will be very useful to give permission to access data available on Wearables in the Health 4.0 environment and also burocratic inefficiencies.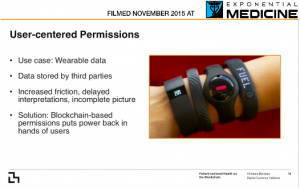 See more in Blockchain & eHealth.
But in any case it is now too CLOSE, too COMPLICATED and still too NOVEL to assure what will be the future of cryptomoney applied to other assets or transactions. This is in any case a challenge considering that all orders & actions in healthcare should be associated with a responsible person and the origin of errors or risks are in some cases imposible to detect.