Nowadays Bluetooth® SIG members implementing Bluetooth wireless technoogy into a product must complete a Declaration of Compliance (DoC) and a listing for the Qualify Design they built, changed, used or branded. End Product Listing (EPL) can only be created by Bluetooth® SIG members and EPL cannot be created by one member on behalf of another company.
The DoC and Listing is followed by a fee for the process. The fee ranges from
$2K to $8K per EPL depending on the status of the Lister with the  Bluetooth® SIG, Associate Member or Adopter, size and revenue of the Lister.  This charge is directly implemented by the Bluetooth® SIG and is separate from the certification and testing costs.
The latest product is the fully-certified Bluetooth version 4.1 is the RN4020  for designers who want to easily add low-power regulatory approved wireless capability to their products.  The RN4020 includes an onboard antenna and is interfaced and configured via a simple ASCII command interface over UART and it is available on the market for US$49.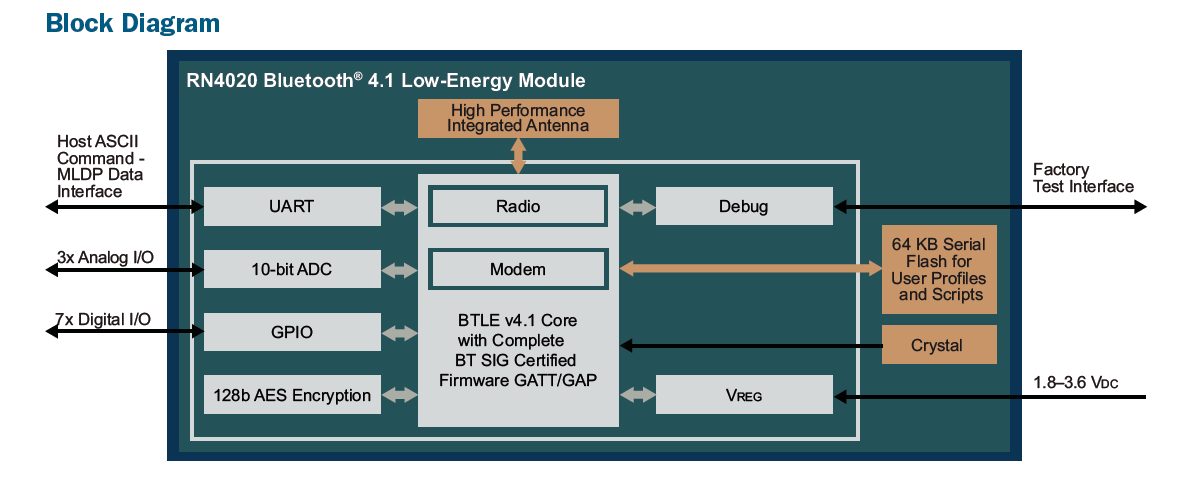 The module supports all standard Bluetooth SIG profiles, and Microchip's
Low-Energy Data Profile (MLDP) for custom serial data transfer. Developers can also use scripting to set the RN4020 up for standalone operation where any one of the analog or digital I/Os can be monitored  and the values can be transmitted over wireless without the use of a host MCU or processor. This makes the RN4020 an excellent solution for low-power sensors and accessories.
The microchip has Secure AES128 encryption and GAP, GATT, SM, L2CAP and integrated public profiles,  scripting for standalone module operation with analog and digital data, software-configurable role as peripheral or central, client or server collection and 64 KB internal serial Flash.
See this information in Future Electronics.