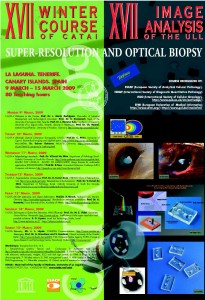 SUPERRESOLUCIÓN y BIOPSIA OPTICA EN TELEMEDICINA. La Laguna, Tenerife, España, del  9 al 15 de Marzo de 2009.  
Este curso está reconocido por la ESCAP (European Society of Analytical Cellular Pathology), la ISDQP (International Society of Diagnostic Quantitative Pathology), la ISCO (International Society of Cellular Oncology) y la EFMI (European Federation of  Medical Informatics).
Esta dedicado a las tecnicas de imagen no invasiva, microendoscopia, microscopia quimica y la gestion y descubrimiento de imagenes en la red.
Detalles en el web site del Evento.