Top 10 Innovations selected by Gadner are found in Humanization of Healthcare H2O.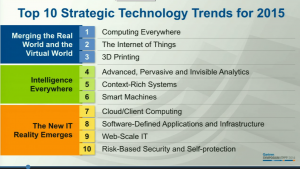 Health 4.0 computing everywhere, Intelligence everywhere but not with Big Data but with Small data that are context reach for the individuals that take into consideration content domain of healthcare, and finally a Cloud, not for everyone but for the health-user at the edge of the network the HFog (Health Fog) handling protected data that belong to the user, a true Cloud-Native application based on software that is Web-scale IT.
A Personal Digital Assistance experience for individual  Preventive Medicine that in H2O is not only Humanized but supervised by an hybrid CPS (Computer personal system).